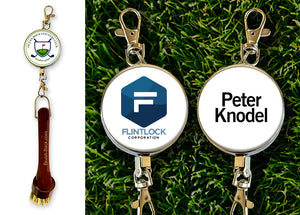 Celebrate your special event with custom-branded Brush-Backs
The Brush-Back product has become an extremely well-received gift for golf tournaments, corporate events, wedding parties, and many other notable occasions. You may also find golf club-specific versions in many of the country's most famous golf destinations.

This website allows you to design your own custom Brush-Back by adding logos and your unique personal message using various typestyles and colors. Just click on the CUSTOMIZE IT BUTTON above, and you will be on your way to the creation of your commemorative keepsake or promotional object.
—
VOLUME DISCOUNTS
11-50 items :: $22.50 each
51-150 items :: $21.50 each
151-300 items :: $20.00 each
for quantities of 300+ please call: 781.476.3047

or send us an email: sharpless@brush-back.com
—
CUSTOMIZING YOUR BRUSH-BACK
Our customization tool allows you to add type and graphics to both sides of the product.
ADD IMAGE: If you wish to add an image, click on the 'Add Image' button and you will either be able to select a graphic from our library or upload your image.
ADD TEXT: The 'Add Text' button allows you to enter your message. You will also be able to choose from our collection of fonts and select your desired color for the text.
LAYERS: The 'Layers' button refers to the order in which you desire for your text and imagery to appear. Does the text sit on top of the image or beneath? This feature allows you to make this decision.
SAVE PRODUCT: The 'Save Product' button allows you to either complete your design or save it for future alterations.
LOAD: Once you are completely satisfied click on the load button and follow the instructions for uploading your design to our graphics department.

Should you have any questions, please feel free to give us a call or drop us an email. 781.476.3047 | sharpless@brush-back.com