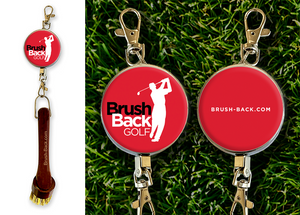 It is a well-known fact that a dirty golf head can take 3-4 strokes off of your game. In a sport where proper foot placement and stability is critical, grass-clogged cleats can also increase your score. Clipping a Brush-Back to your golf bag is a simple and inexpensive way to boost your game!
Unlike other golf accessories, Brush-Back™ is designed to withstand the rigors of many rounds of golf. The sturdy, all-steel housing protects the retractable 42" Dyneema® Cord, which unlike wire cable, will not unravel or fray. The wooden-handled brush fits comfortably in your hand and is angled so that the 100% brass bristles can most effectively clean any club head or cleat.
Celebrate your special event with personalized Brush-Backs
Our product has become an extremely well-received gift for golf tournaments, corporate events, wedding parties, and many other notable occasions. You may also find golf club-specific versions in many of the country's most famous golf destinations.
Should you have any questions, please feel free to give us a call or drop us an email. 781.476.3047 | sharpless@brush-back.com